Sale!
Heel Shifter Black or Chrome
$169.95
Heel Shifter Black or Chrome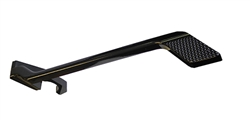 Fits Indian Chief, Chieftain, and Roadmaster 2014 and Up
Add the convenience of up-shifting with your heel. This is not a cast piece, it is CNC machined. We start with over five pounds of billet aluminum and machine it down to a quarter of a pound! Getting around the primary cover and clearing the floorboard required some creative machining. Finished in gleaming chrome or black powder coat. Attaches to your factory toe shift lever. Includes stainless steel hardware.
Only logged in customers who have purchased this product may leave a review.
Related Products