LED Curved License Plate Frame Indian
$119.95
LED Curved License Plate Frame Indian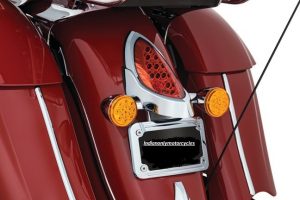 Fits 2014 & up Indian Chief, Chieftain, Springfield, and Roadmaster all models except Scout
The L.E.D. Curved License Plate Frame with Mount creates an instant style upgrade for Indian Roadmaster, Chieftain and Chief models. This die-cast aluminum frame is a direct replacement that hugs the rear fender and complements surrounding OEM chrome accents, with built-in L.E.D.'s that illuminate the license plate.
*Note: Marked DOT L11 compliant lighting
Only logged in customers who have purchased this product may leave a review.
Related Products