Description
Chief Warheader Exhaust 99-2011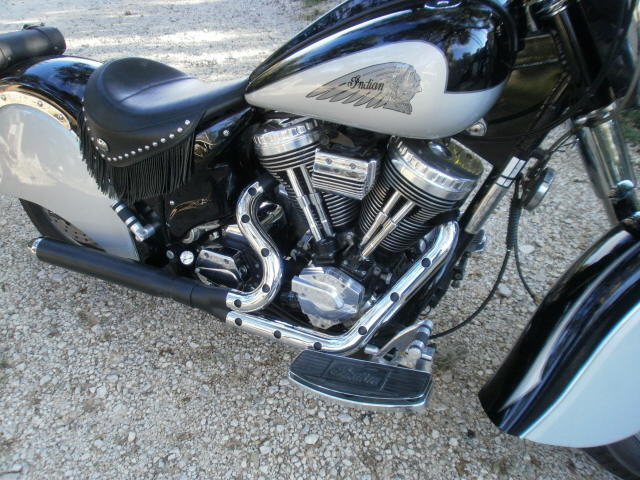 "War-Header" will fit your 99-2011 Indian Chiefs. Picture shown is standard with Black pipes & muffler with Chrome designer heatshields and Chrome Hollow point tip on a PP-100 Chief, (other finish options are available). See more info for length options on the muffler can. Maximum mid range and top end horsepower more than Thunderheader, Road Rage, V&H Pro pipe, and Samson headers, with a deeper toned bark. Our War-Header has proven over & over to have the best mid range power of any exhaust. Mid range power is what you need for FAST street riding! If you ride hard and fast, you want to be riding with our "War-Header". Other Manufacturers just talk about performance, Hacker Custom Exhaust Delivers performance!
We also offer a quiet option for our headers. Our quiet option tuned inserts are approx 96-97 decibels, our standard H-P tuned inserts are approx 103 decibels, (stock pipes are 80, and open straight pipes are in the low 120s).
All of our War-Headers now come standard with our collector heatshield.
Fits:  Indian Chief 1999-2011
Indian Only Motorcycle carries the largest stock of performance mods, upgrades, custom equipment gear, apparel, OEM replacement and aftermarket parts and accessories for Indian Motorcycles with international worldwide shipping to Canada, UK, CZ, GB, Australia and anywhere an Indian Motorcycle rider wants to do it yourself customizing of a show quality bike. If you are looking for Chrome or Black Contrast Cut billet aluminum accessories. Just shop Indian Only and Owens Cycle Works website for retail purchases or dealer wholesale orders for Indian's parts.