Description
Gerbing 12V Heated Clothing Battery with Remote 7000 mAh
This Gerbing 12V Battery Pack allows you to use your heated clothing while not hard-wired into your motorcycle. Great for short rides or using your Gerbing Heated Jacket or Vest while doing any cold-weather activity.
• 12v Lithium-ion 7ah (7,000 mAh) Rechargeable Battery Pack
• Remote Control with 3 Heat Settings
• Wall Charger
• Detailed Instructions & Warranty
• Over 1 Hour of Heat for Gerbing Jacket Liners
Instructions for programming a new remote with battery:
1. When battery is not connected (to load or charger), Push ON and OFF button on battery at the same time, the battery LED shall read A in flashing (means "address" searching),
2. Then push the OFF button on remote, the flashing A in LED display shall be OFF.
To test with the battery and remote are matched there are two ways
1. Push remote button OFF within 60seconds after match procedure, the LED in battery shall read "F" (means "find or found").
2. Try the battery on load and use remote to control battery.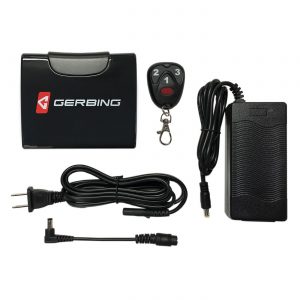 Gerbing 12V Heated Clothing Battery with Remote 7000 mAh