Description
Scout Exhaust Mayhem 2015 and up
New for 2016 is Hacker's Scout Mayhem. Fits Scout & Scout 60. Hacker's Scout Mayhem is a total performance full exhaust system that really adds to the look of the Scout.
The Scout Mayhem broke the elusive 100 rear wheel horsepower mark with 103.5 rear wheel horsepower (17 more horsepower than stock!)
The Mayhem requires the use of a AMS module, or Dobeck's EJK module, they are both similar, and do not require any 02 sensors, so the Mayhem does not come with any sensor ports.
We will offer the 12mm 02 bungs on special request only, we will not add any 18 mm bungs as there is no room for the 18mm sensors.
Hacker's Scout Mayhem will be offered in black with black designer heatshields or Black with Chrome designer heatshields, other finish options are available, also quiet option inserts as well.
***Made to order.  Ships in approximately 6 weeks.
Fits:  Scout 2015 and up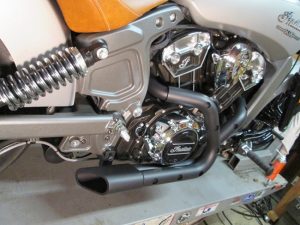 Sound Indian Scout Hacker Mayhem Exhaust Sound Clip