Description
3510-0039 3510-0039 Cruis'n™ Tool Roll Bag – Fork Mount
This part number 3510-0039 3510-0039 is a Cruis'n™ Tool Roll Bag – Fork Mount includes 2 mounting straps for quick installation. Show pictured on a Victory Vegas for example of size 
Easy-open lid features lockable twist-lock (lock included) supplemented by hook-and-loop
Straps included for secure mounting
Smooth, clean style; matches Cruis'n saddlebags and large sissy bar bag
Easy-open lid features lockable twist-lock (lock included) supplemented by hook-and-loop closure
Straps included for secure mounting
Can also be used as a windshield bag
Dimensions: 11″ L x 3.5″ W x 4.5″ H
| | |
| --- | --- |
| CLOSURE | TWIST-LOCK |
| COLOR/FINISH | BLACK |
| DEPTH | 89 MM (3-1/2″) / 89 MM / 3-1/2″ |
| HEIGHT | 4-1/2″ / 11,5 CM (4-1/2″) / 11.5 CM |
| MATERIAL | SYNTHETIC LEATHER |
| WIDTH | 28 CM (11″) / 11″ / 28 CM |
| RIDING STYLE | STREET |
| BASE COLOR | BLACK |
| MODEL | CRUIS'N |
| PRODUCT NAME | TOOL BAG |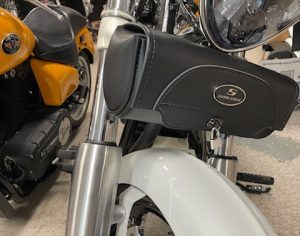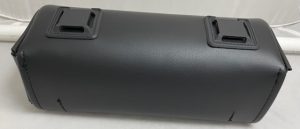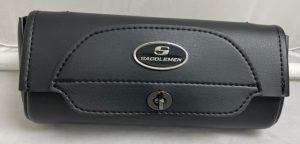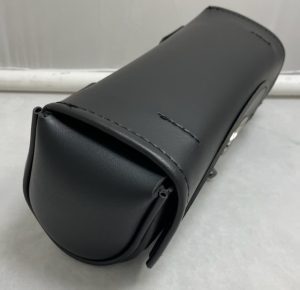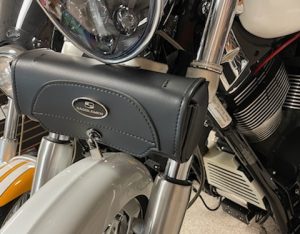 Indian Only Motorcycles is located in Clinton Tn. We opened in 1996 beginning with Victory Motorcycles  and expanded to offer Indian Products and Off-road products to offer a one stop shop for all your accessory needs.
We are a certified Cerakote Applicator specializing in High Temperature Coatings for exhaust and performance parts.
We custom design many parts and accessories.
If there is something your looking for that is not listed on our websites including OEM parts feel free to give our team a call. 865-264-4425 Monday to Friday 10 am to 5 pm Eastern Standard Time.
We ride so we understand!
3510-0039 3510-0039 Cruis'n™ Tool Roll Bag – Fork Mount
3510-0039 3510-0039 Cruis'n™ Tool Roll Bag – Fork Mount