Description
Brake and Clutch Perch Mount Bolt Kit Indian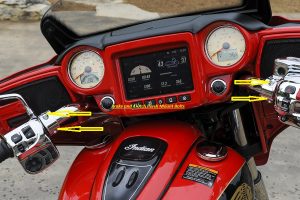 Get rid of those ugly OEM bolts that corrode and look terrible.  Dress your Indian up with a simple and subtle custom bolt kits.
Available in Chrome and Satin Black currently.
Satin Black matches perfectly with Darkhorse models
Kit includes 4 bolts that exceed factory specs
Other color options available on request.   We can finish in flat and gloss as well.
Steel Bolts Hand Sprayed with Dragon Coat Performance Coating then baked on for a Strong Finish.
Ceramic coating provides a hard heat resistant finish. The color will be the same on all your bolts.
Steel Bolts that exceed factory OEM Specs. Yes you can torque to factory specs.
No more huge service bills because you broke an aluminum bolt off!
A very easy installation to dress up the motor.
Simply remove 1 bolt at a time and replace with a new bolt.
Make sure to torque to factory specs and utilize Loc-Tite where needed.
Brake and Clutch perch mount bolt kit consists of 4 Bolts of the correct length steel bolts to replace the Brake and Clutch Perch bolts
Chrome bolts are Steel and triple show chrome plated.
ASSEMBLIES WHERE 7520832 IS USED