Description
CI-3028 Indian Rider Floorboard Relocation Kit for 25 Rake Chief (2014-2017)
Aeromach® CI-3028 Indian Rider Floorboard Relocation Kit (2014-2017)
Relocation kit for 2014-up Indian motorcycle 25 degree rake Thunder Stroke bikes with highway bars.
Features:
Moves the floorboards down 1 1/4 inches and forward 1 inch to a more comfortable riding position.
Includes two billet relocation plates powder coated black with new mounting hardware, spacers and 9.5 inch shift rod.
Made in USA.
Finish:
Fitment:
This kit is for use with motorcycles with 25 degree rake that have highway bars installed.
2014-2017 Indian Chief
2014-2017 Indian Springfield
2014-2017 Indian Springfield Dark Horse
2014-2017 Indian Chieftain
2014-2017 Indian Chieftain Classic
2014-2017 Indian Chieftain Dark Horse
2014-2017 Indian Chieftain Limited
DOES NOT FIT Roadmaster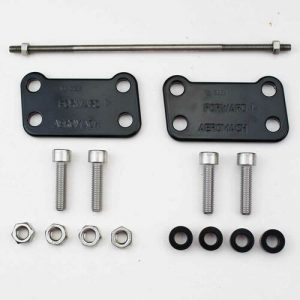 CI-3028 Indian Rider Floorboard Relocation Kit for 25 Rake Chief (2014-2017)