Description
Ciro Led Flag Mount for 3/4″ / 1/2″ Diameter Tube Rails
The sturdy, high quality aluminum Flag Mount for 1/2″ Diameter Tube Luggage Racks will hold your flag securely upright with our smooth, clean, and chrome plated hingeless design.
Wire management clips included for clean and easy installation.
Mounts with 1/4-20 hardware and no drilling required.
Mount for the LED Lighted Flag PolE   SKU: IO-70600
1/2″ diameter or 3/4″ for 3/4″ Diameter Tube Rails
Works with LED Lighted Flag Pole with American Flag
Drag Specialties part number 0521-1773
Installation time is 30 minutes or less*
*All installation times are based on average installations by the Ciro staff.  Installation time my vary depending on skill set, condition of motorcycle and tools available to the installer.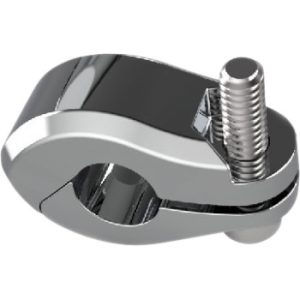 Indian Only Motorcycles is located in Clinton Tn. We opened in 1996 beginning with Victory Motorcycles  and expanded to offer Indian Products and Off-road products to offer a one stop shop for all your accessory needs. We are a certified Cerakote Applicator specializing in High Temperature Coatings for exhaust and performance parts.We custom design many parts and accessories. If there is something your looking for not listed on our websites including OEM parts feel free to give our team a call. We ride so we understand!
Ciro Led Flag Mount for 3/4″ / 1/2″ Diameter Tube Rails