Description
Gerbing 12V Heated Pant Liners
Extend your riding season with the Pant Liner. Our Pant Liner makes a great mid-layer piece to keep you riding in cold weather! Constructed of windproof, durable, Ripstop fabric, our liner fits close so you can wear it comfortably under your favorite riding pants. The liner has four Microwire™ heating zones in the leg and hip. Connect your Pant Liner to an EX Pro Jacket or Jacket Liner to create full-body warmth. Connections at the hem of each pant leg also allow the connection of heated socks and insoles.
Features & Benefits:
Pant has four Microwire heating zones: leg (2) and hip (2).
Pre-wired sock/insole connections at end of legs
Mini Ripstop nylon shell
YKK zippers
Heated Motorcycle Pant Liner
Build: Pant liner that fits close to the body and easily under your outer garments
Materials: Minirip shell, taffeta lining
Gerbing 12V Heated Pant Technical Specifications:
Battery Harness, & temperature controller required for stand-alone operation (sold separately).
Max Heat: 135 F @ 44W
Power: 12V DC 3.6 Amp
Material: Mini rip shell, Taffeta lining
Gerbing 12V Pant Power Options:
1) Plugged directly into our heated jacket
2) Powered by Battery Harness (temp controller or on/off switch recommended)
About the Gerbing 12V Power System: The Core Heat 12 thermovelocity system is powered by a simple connection to your vehicle's DC power system. Core Heat 12 technology connects to your motorcycle, snowmobile, ATV, boat or even airplane to keep you warm at the temperature of speed.
Gerbing Microwire Heating: The Microwire system is the most durable and efficient thermo-technology platform ever developed. Products incorporating Microwire technology utilizes patented micro-sized stainless steel fibers intertwined and encased in a proprietary waterproof coating. Gerbing Microwire technology will provide even heating for ultimate comfort.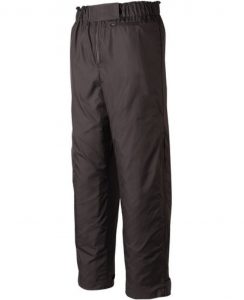 Gerbing 12V Heated Pant Liners