Description
Gerbing 12V Heated Vest Liner
Our 12V heated vest liner packs a powerful punch in a very lightweight, easy to stow package. It's the perfect piece to have with you all the time, just in case Mother Nature throws you an unexpected blast of cold! While not quite as warm as the full jacket liner, it's perfect to throw on under your leather or textile jacket for early morning starts, or cool evening rides. It is designed to be worn close to the body, under your outer jacket and over a thin polyester base layer. This configuration will provide the fastest and warmest heat transfer. The Microwire™ powered heat zones come to full temperature in seconds.
Gerbing Heated Vest Liner Features:
Vest has five Microwire heating zones: collar, chest (2), and back (2).
Mini Ripstop nylon shell
Drop tail back for improved coverage while riding
YKK zippers
Pre-Wired Connector for pant liners
Gerbing 12V Vest Liner Technical Specs:
Max Heat: 135° F @ 54W
Power: 12V DC 4.5 Amp
All Gerbing installations require a Battery Harness and Temperature Controller for operation (sold separately).
Gerbing 12V Power System: Using our advanced interconnect system, Gerbing 12V garments plug right into your electrical system on your motorcycle, snowmobile, ATV, boat or airplane for an unlimited source of power and keeps you warm at any temperature, any speed.
About Gerbing Microwire: The patented Gerbing Microwire system is the most durable and efficient heating platform ever developed. Products incorporating Microwire technology utilizes patented micro-sized stainless steel fibers intertwined and encased in a proprietary waterproof coating. Gerbing Microwire technology will provide even heating for ultimate comfort.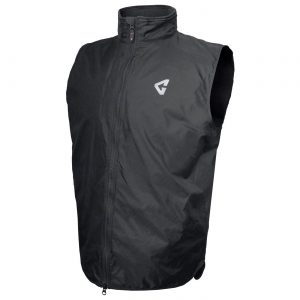 Gerbing 12V Heated Vest Liner