Description
JACK/LIFT ADAPTER for INDIAN MOTORCYCLE ALL MODEL THUNDERSTROKE
NOW AVAILABLE, NEW INDIAN ALL THUNDERSTROKE, CHALLENGER, SCOUT MOTORCYCLES JACK/LIFT *ADAPTER
Now! No need for unstable wooden block shims, Hockey Puck spacers, Or Expensive Jacks, Taking your bike to the shop, etc. This ADAPTER fits *your 2 arm m/c jack.
Adapter goes between your jack arms and bottom of Indian m/c.
Is needed in order to prevent your jack arms from damaging hydraulic lines etc. on bottom of the motor.
Makes your bike and your jack stable, safe and secure when raising.
Works with all 111 Indian Motorcycles with all stage mods and all exhaust (all but the Scout)
Adapter is easily used with Included illustrated instructions.
No tools needed. On and off in seconds, being that you can use your jack for any other brand bikes by not having it tied up just for your Indian.
Adapter will work with all two arm raise type motorcycle/ATV jacks, as pics show.
Using your jack, bike is then STABLE, SAFE & SECURE enough for removing either or both wheels, making repairs, adding accessories, or just for a thorough cleaning.
Also great for storing your bike for the winter for more space and to prevent tire damage. (Makes it much easier to clean wheels and pipes while sitting in a chair.)
Ad pics are bike raised using the adapter with your jack. The last ad pic is the adapter itself to purchase.
Note J&S Jack Lifts are wider than Harbor Freight or normal Jacks. Please Contact prior to ordering if using on a J&S Jack so we can build it to the wider platform.
Overall Width of Adapter is 13 inches and Length is 14 inches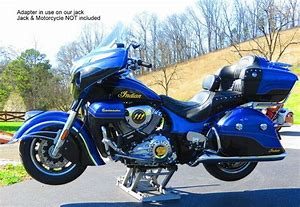 Many sold with 100% satisfaction. No need to take your bike to the shop – adapter will pay for itself first time you use it.
Duralast finish – is made with rubber spaced pads to cushion bike to jack and nothing being against or pressure on underneath fluid lines.
Is the ONLY ONE Made. EASY to use and Sturdiest in the market.
JACK/LIFT ADAPTER for  INDIAN MOTORCYCLE ALL MODEL THUNDERSTROKE