Description
Klotz Synthetic Oil 20W40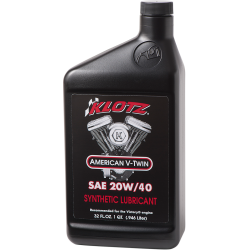 Oil Engine Synthetic Motor Oil Victory/Indian
Sold by Individual Quart
Klotz Synthetic Oil 20W40
Looking to find a better oil or choice for expensive Indian Motorcycle Oil?  Finally here is your selection. Read the bottle "Designed for the Victory/Indian Engines". Finally an oil for the demanding Indian Motorcycle Market. We support Klotz for supporting  us Indian Riders who have needed more choices in oils!!
Recommended for Victory® and Indian® engines
Certified warranty compliant: API-SL-SM service
Custom formulated for V-Twin air-cooled engines
Reduces engine temperature and detonation
High-temperature film strength improves anti-wear protection
SAE grade 20W40
1 quart bottle, 10 per case; sold each
Designed for the Indian 111" Thunderstroke Motor
Made in the U.S.A.
MADE IN THE U.S.A. Yes
MATERIAL Synthetic
PACKAGING Each
STYLE V-Twin
TYPE Lubricant
VISCOSITY 20W40
VOLUME Quart
Currently Shipping to the United States Only
Oil Engine Synthetic Motor Oil Victory/Indian
Thank you for your interest in Klotz Synthetic Lubricants. For over 55 years, Klotz has consistently met the needs of racers, performance enthusiasts, and traditional end-users who won't settle for anything less than the best available lubrication products on the market today.
Developing products specifically for the motorsports and high-performance industries is our niche. In fact, Klotz sets the standard for synthetic lubricants across the board in these markets. Mastering the science of synthetic lubrication is our first and highest priority. Klotz engineers utilize leading edge materials and components, develop original techniques, and employ the most precise integration processes available.
Racers and performance enthusiasts around the world rely on Klotz to get them to the checkered flag. We pride ourselves on adapting to the constantly evolving needs of the motorsports industry. Klotz proudly specializes in serving the high-performance needs of the automotive, kart, marine, motorcycle, RC scale model, SkiCraft® and snowmobile markets. Providing the highest quality and most reliable products to enhance your good times on the track and on the road is our commitment to you.
Oil Engine Synthetic Motor Oil Victory/ Indian
Indianonlymotorcycles.com