Description
Led War Bonnet Fender LED Ornament Colors Red / White / Blue / Green / Amber 2014 Newer
 This Indian fender LED Indian motorcycle front fender replacement light.
Magnificently lights up the Indian headdress ornament.
Ties into existing wiring, meaning no extra module is needed.
Designed for new Indian motorcycle models with the clear face.
Indian Motorcycle Fender LED Ornament Features:
6 LED light panel
Headdress ornament lens
Ties right into the existing wiring
Doesn't require an extra module to be installed
Remote control with multiple functions
For new Indians with clear face
Fits all 2014 and Newer Chief, Chieftain, Road Master, Dark Horse, Springfield or a Scout only if the War Bonnet has been added already.
1 YEAR WARRANTY FROM DATE OF PURCHASE
Note the War Bonnet is not included ! Only includes the Led and Posi Taps to install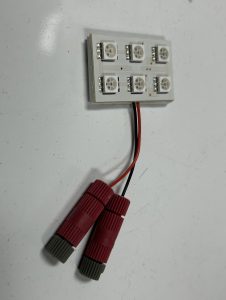 front fender light magnificently lights up the Indian headdress
Click Here for the Color Changing kit 
To install simply Remove head dress from the fender. Use supplied Posi tabs to tap into existing wires behind factory light then use 3m adhesive on the rear of the led to adhere it to the factory light. If you don't want the factory light to work at the same time cut the black wire going to the factory light in front of the posi tab. Then install the head dress back on the fender and your ready to ride.
Led War Bonnet Fender LED Ornament Colors Red / White / Blue / Green / Amber 2014 Newer