Description
New Rage Cycles Side Mount License Plate Bracket for FTR 1200
New Rage Cycles custom designed a two-position, side mount license plate bracket for the Indian FTR 1200.
Allows for easy mounting either vertical or horizontal !
Remove the bulky factory plastic mount to clean up the rear of your FTR by relocating it to the side !
Eliminates the stock bracket but uses the same mounting location, allowing for horizontal or vertical mounted positioning.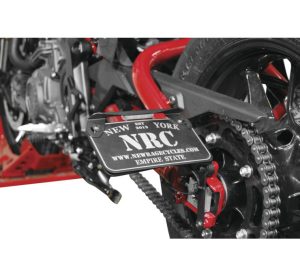 FTR tag mount shown mounted Horizontal
Also be sure to check out our custom High Mount
Indian Only Motorcycles is located in Clinton Tn. We opened in 1996 beginning with Victory Motorcycles  and expanded to offer Indian Products and Off-road products to offer a one stop shop for all your accessory needs. We are a certified Cerakote Applicator specializing in High Temperature Coatings for exhaust and performance parts. We custom design many parts and accessories. If there is something your looking for not listed on our websites including OEM parts feel free to give our team a call. We ride so we understand!
New Rage Cycles Side Mount License Plate Bracket for FTR 1200