Description
TRUNK RELOCATION KIT FOR INDIAN ROADMASTER BACK 2″
This relocation kit replaces the factory trunks quick release side support brackets on a Indian Roadmaster (2015 – current).
The set moves the trunk back two inches to the perfect position for added passenger room and comfort.
After much research and testing with different riders we found that moving back 2" is the perfect sweet spot for ride handling and comfort.
Choose from black or polished and chrome plated just like the originals.
Unlike other  "KITS"  that are coming out on the market you will not have to leave off the trunks chrome rear guard rail.
Plus you don't have to fill those empty holes with bolts or lose the trunks lower steel floor support.
Most importantly you will not see any unsightly "adapters".
This kit is Easy to install, no drilling required and retains all stock components.
Moves trunk back 2″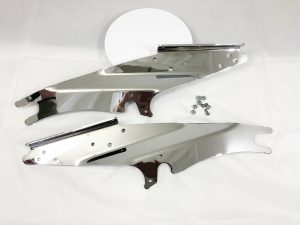 TRUNK RELOCATION KIT FOR INDIAN ROADMASTER BACK 2″