Description
VOODOO Performance Intake for the 111 and 116 Big Bore
Our VooDoo Air Intake does what no other performance air cleaner does. It increases air flow while also increasing filtration, reduces air intake temperature and reduces motor temperature. The back of our VooDoo air Intake was designed to change air flow around the #2 cylinder to keep it cooler and stop the blast of hot air blowing out the right side that Indians are so well known for. Better air flow, better filtration, and a cooler running motor don't just give you more horse power they can help to make your motor last longer.
Patented Filter
Our Patented filter technology is a dry media. No oil, no mess. Cleaning is simple with warm soapy water and filters down to unheard of sub micron levels while still allowing more air flow than the competition. It is designed to last the life of your motor and be easy to take care of. The durable seal on the front and back have a double lip to further prevent particles from entering your motor and doing damage. While filter down to less than a micron in size? Studies show it is those particles that pass by the piston rings and get into the motor oil.
What OTB VooDoo Does
More Horsepower
Quicker Throttle Response
Cooler Air entering the engine
Cooler Engine Temperatures
Cuts out the burning heat on your right leg that the Indian 111 is known for.
Patented Filter Technology filters down below 1 micron while providing more airflow
Oil-Free Filter built for the lifetime of your motorcycle.
All aircraft grade billet 6061 precision machined to perform.
Under a load or over 3,000 RPMs the VooDoo significantly increases air flow.
Voodoo Indian Motorcycle Mounting Instructions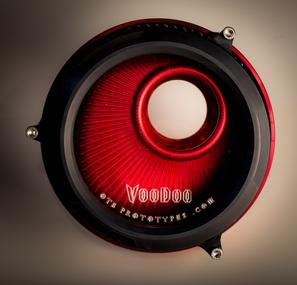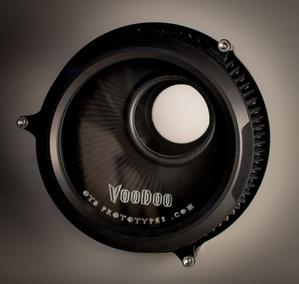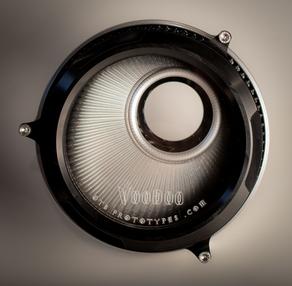 The OTB VooDoo intake lowers the temperature of your motor and redirects the air around your motor for more efficient cooling.
This is done by an isolator that separates heat transference between the intake and the motor and a back plate on the VooDoo engineered to redirect airflow.
The OTB VooDoo Patented dry air filter and design allows for much higher air flow for better performance and throttle response.
This allows the motor to breath better for any rider but really shines for those seeking to get the most out of their powerhouse.
This is a powder coat on our all billet aluminum VooDoo air intake. All of the VooDoo's start out at nearly 20 pounds of solid billet and are precision machined to final specification.
There is no other product available for the 111 or 116 motor that compares to the craftmanship in these.
The look is unique to the VooDoo and the performance is outstanding.
NOTE: when installing on a 2021 – newer Chief models (including Dark Horse, Bobber, & Super Chief) require 2020-earlier intake manifold support for proper installation of OTB Voodoo air cleaners ( not included in package) 
If installing on a 2020 or earlier Indian Chief models (including Dark Horse, Bobber, & Super Chief) standard mounting instructions are used. 
Please see the thermal pictures below that show how this separation of heat provides for cooler air into your motor. Indian owners who have tried the VooDoo intake have noticed their motor cooler with less heat on their feet and legs.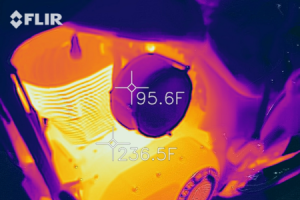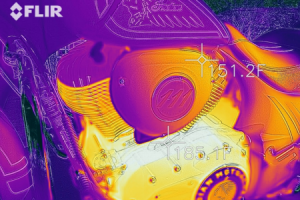 Dyno Jet has tunes available for the VooDoo. Follow the link to download their default tune for the VooDoo and the PVCX.  http://www.dynojet.com/powervision/
Fits the Following Indian Motorcycles :
Year Make Model:
2014 INDIAN CHIEF VINTAGE
2015 INDIAN CHIEF VINTAGE
2015 INDIAN CHIEFTAIN
2016 INDIAN CHIEF CLASSIC
2016 INDIAN CHIEF VINTAGE
2016 INDIAN CHIEFTAIN
2016 INDIAN SPRINGFIELD
2017 INDIAN CHIEFTAIN
2017 INDIAN CHIEFTAIN DARK HORSE
2017 INDIAN ROADMASTER CLASSIC
2018 INDIAN CHIEF
2018 INDIAN CHIEF VINTAGE
2018 INDIAN CHIEFTAIN DARK HORSE
2018 INDIAN ROADMASTER
2018 INDIAN ROADMASTER CLASSIC
2018 INDIAN ROADMASTER ELITE
2018 INDIAN SPRINGFIELD
2019 INDIAN CHIEF
2019 INDIAN CHIEF DARK HORSE
2019 INDIAN CHIEF VINTAGE
2019 INDIAN CHIEFTAIN DARK HORSE
2019 INDIAN CHIEFTAIN LIMITED
2019 INDIAN ROADMASTER
2019 INDIAN ROADMASTER ELITE
2019 INDIAN SPRINGFIELD DARK HORSE
2020 INDIAN CHIEF DARK HORSE
2020 INDIAN CHIEF VINTAGE
2020 INDIAN CHIEFTAIN CLASSIC
2020 INDIAN CHIEFTAIN DARK HORSE
2020 INDIAN CHIEFTAIN LIMITED
2020 INDIAN SPRINGFIELD
2014 INDIAN CHIEF CLASSIC
2014 INDIAN CHIEFTAIN
2015 INDIAN CHIEF CLASSIC
2015 INDIAN ROADMASTER
2016 INDIAN CHIEF DARK HORSE
2016 INDIAN CHIEFTAIN DARK HORSE
2016 INDIAN ROADMASTER
2017 INDIAN CHIEF CLASSIC
2017 INDIAN CHIEF DARK HORSE
2017 INDIAN CHIEF VINTAGE
2017 INDIAN CHIEFTAIN ELITE
2017 INDIAN CHIEFTAIN LIMITED
2017 INDIAN ROADMASTER
2017 INDIAN SPRINGFIELD
2018 INDIAN CHIEF CLASSIC
2018 INDIAN CHIEF DARK HORSE
2018 INDIAN CHIEFTAIN
2018 INDIAN CHIEFTAIN CLASSIC
2018 INDIAN CHIEFTAIN LIMITED
2018 INDIAN SPRINGFIELD DARK HORSE
2019 INDIAN CHIEF CLASSIC
2019 INDIAN CHIEFTAIN
2019 INDIAN CHIEFTAIN CLASSIC
2019 INDIAN ROADMASTER CLASSIC
2019 INDIAN SPRINGFIELD
2020 INDIAN CHIEF
2020 INDIAN CHIEF CLASSIC
2020 INDIAN CHIEFTAIN
2020 INDIAN ROADMASTER
2020 INDIAN ROADMASTER CLASSIC
2020 INDIAN ROADMASTER ELITE
2020 INDIAN SPRINGFIELD DARK HORSE
2021 INDIAN CHIEF
2021 INDIAN CHIEF VINTAGE
2021 INDIAN CHIEFTAIN
2021 INDIAN CHIEFTAIN DARK HORSE
2021 INDIAN CHIEFTAIN LIMITED
2021 INDIAN ROADMASTER
2021 INDIAN SPRINGFIELD
2021 INDIAN SPRINGFIELD DARK HORSE
2022 INDIAN CHIEF
2022 INDIAN CHIEF DARK HORSE
2022 INDIAN CHIEFTAIN
2022 INDIAN CHIEFTAIN DARK HORSE
2022 INDIAN CHIEFTAIN ELITE
2022 INDIAN CHIEFTAIN LIMITED
2022 INDIAN ROADMASTER
2022 INDIAN SPRINGFIELD
2022 INDIAN SPRINGFIELD DARK HORSE
2022 INDIAN SUPER CHIEF
VOODOO Performance Intake for the 111 and 116 Big Bore