Description
WHEEL BOLT CAP COVER CHROME DOME SPIKE CHROME / BLACK
Front Axle Plug Choose Chrome Dome, Black Dome, Black Ribbed, Chrome Spike Cone or Black Spike Cone all easy install Push in Axle Caps
Now Just released New Styles to choose From ! 
DRESS UP YOU FRONT AXLE WITH THIS CUSTOM CAP (INCLUDES 1 CAP ONLY)
In only minutes, you can make art out of an otherwise dull looking bolts.
These covers install easily with no tools or fasteners.
The axle caps just press in and you are ready to show off your custom Indian.
This is a real easy to install accessory that make a great looking Indian Motorcycle look better.
We are always trying to find that one piece of custom accessory that wont break the bank or take up the whole weekend trying to install.
This is the right accessory for the order. This axle cap will clean up the front axle and looks great.
New Chrome Dome Axle cap Design !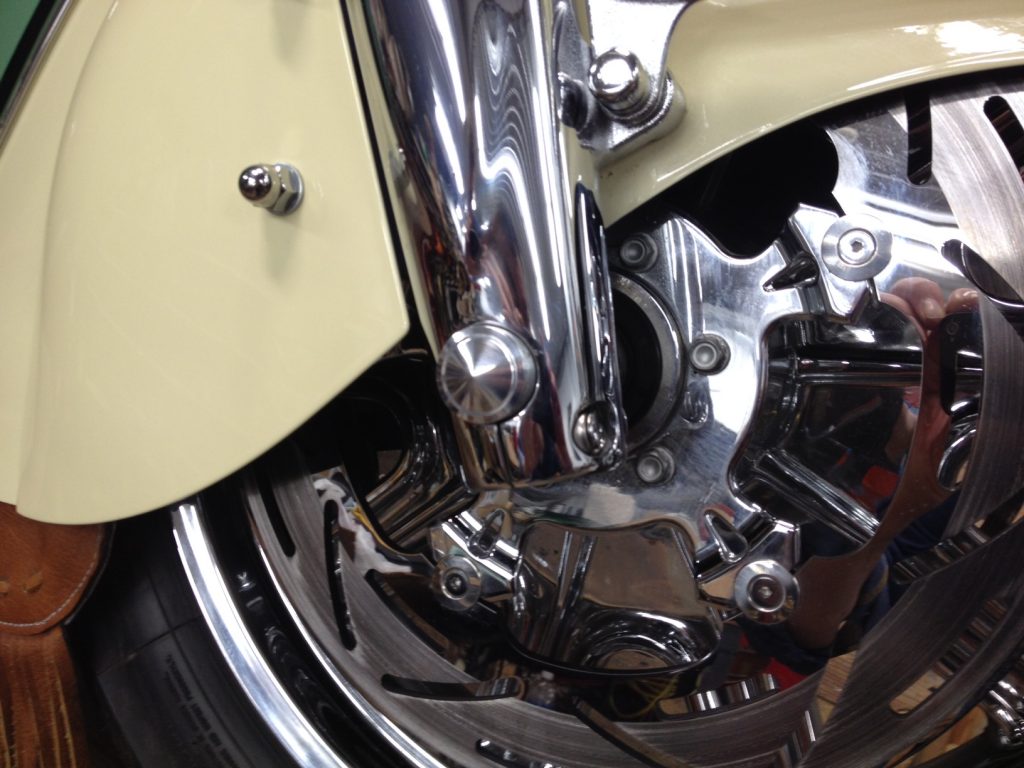 ASSEMBLIES WHERE THIS AXLE CAP CAN BE USED:
2014 CHIEF CLASSIC/CHIEF VINTAGE/CHIEFTAIN ALL OPTIONS (N14CCC/CCV/TCA) – Wheel, Front, Chief Classic/Chief Vintage N14ccc/Ccv All Options
2014 CHIEF CLASSIC/CHIEF VINTAGE/CHIEFTAIN ALL OPTIONS (N14CCC/CCV/TCA) – Wheel, Front, Chieftain N14tca All Options
2015 CHIEF CLASSIC/CHIEF VINTAGE ALL OPTIONS (N15CCC/CCV) – Wheel, Front All Options
2015 CHIEFTAIN/ROADMASTER ALL OPTIONS (N15TCAAA/TRAAA) – Wheel, Front All Options
2016 CHIEF CLASSIC/CHIEF VINTAGE ALL OPTIONS (N16CCC/CCV) – Wheel, Front N16ccc All Options
2016 CHIEF CLASSIC/CHIEF VINTAGE ALL OPTIONS (N16CCC/CCV) – Wheel, Front N16ccv All Options
2016 CHIEF DARK HORSE ALL OPTIONS (N16CCDAAAH/BH/CH/EH) – Wheel, Front N16ccdaa All Options
2016 CHIEFTAIN/CHIEFTAIN DARK HORSE/ROADMASTER ALL OPTIONS (N16TCAAA/TCDAA/TRAAA) – Wheel, Front All Options
2016 SPRINGFIELD ALL OPTIONS (N16THAAA) – Wheel, Front All Options
2017 CHIEF CLASSIC/CHIEF VINTAGE ALL OPTIONS (N17CCC/CCV) – Wheel, Front N17ccc All Options
2017 CHIEF CLASSIC/CHIEF VINTAGE ALL OPTIONS (N17CCC/CCV) – Wheel, Front N17ccv All Options
2017 CHIEF DARK HORSE ALL OPTIONS (N17CCDAAAH/BH/CH/EH) – Wheel, Front N17ccdaa All Options
2017 CHIEFTAIN DARK HORSE ALL OPTIONS (N17TCDAA) – Wheel, Front All Options
2017 CHIEFTAIN LIMITED/ELITE ALL OPTIONS (N17TCE/TCN) – Wheel, Front N17tce All Options
2017 CHIEFTAIN/ROADMASTER ALL OPTIONS (N17TCAAA/TRAAA) – Wheel, Front All Options
2017 ROADMASTER CLASSIC ALL OPTIONS (N17TRLAA) – Wheel, Front All Options
2017 SPRINGFIELD ALL OPTIONS (N17THAAA) – Wheel, Front All Options
2018 CHIEF CLASSIC/CHIEF VINTAGE ALL OPTIONS (N18CC/CV) – Wheel, Front N18cca/Cva All Options
2018 CHIEF CLASSIC/CHIEF VINTAGE ALL OPTIONS (N18CC/CV) – Wheel, Front N18ccb All Options
2018 CHIEF DARK HORSE (N18CCDAAAH/AABH/AACH/AAEH) – Wheel, Front N18ccdaa All Options
2018 CHIEFTAIN CLASSIC ALL OPTIONS (N18TFAAA) – Wheel, Front All Options
2018 CHIEFTAIN DARK HORSE ALL OPTIONS (N18TCDAA) – Wheel, Front All Options
2018 CHIEFTAIN ELITE ALL OPTIONS (N18TCEAA) – Wheel, Front All Options
2018 CHIEFTAIN/CHIEFTAIN LIMITED ALL OPTIONS (N18TCAA/TCBA) – Wheel, Front All Options
2018 ROADMASTER CLASSIC ALL OPTIONS (N18TBAAA) – Wheel, Front All Options
2018 ROADMASTER/ELITE ALL OPTIONS (N18TRA/TRE) – Wheel, Front N18traaa/Treaa All Options
2018 SPRINGFIELD ALL OPTIONS (N18THAAA) – Wheel, Front All Options
2018 SPRINGFIELD DARK HORSE ALL OPTIONS (N18THDAA) – Wheel, Front All Options
2019 CHIEF DARK HORSE (N19CCDAAAH/AABH/AACH/AAEH) – Wheel, Front N19ccdaa All Options
2019 CHIEF VINTAGE ALL OPTIONS (N19CVAAA) – Wheel, Front All Options
2019 CHIEFTAIN CLASSIC ALL OPTIONS (N19TFAAA) – Wheel, Front All Options
2019 CHIEFTAIN DARK HORSE ALL OPTIONS (N19TCDAA) – Wheel, Front All Options
2019 CHIEFTAIN/CHIEFTAIN LIMITED ALL OPTIONS (N19TCBAA/TCAAA) – Wheel, Front All Options
2019 ROADMASTER/ELITE ALL OPTIONS (N19TRAAA/TREAA) – Wheel, Front N19traaa All Options
2019 SPRINGFIELD ALL OPTIONS (N19THAAA) – Wheel, Front All Options
2019 SPRINGFIELD DARK HORSE ALL OPTIONS (N19THDAA) – Wheel, Front All Options
2020 CHALLENGER BASE/LIMITED (N20LCARR/N20LCBRR) – Wheel, Front All Options
2020 CHALLENGER DARK HORSE (N20LCDRR) – Wheel, Front All Options
2020 CHIEF DARK HORSE ALL OPTIONS (N20TEDAAAH/AABH/AACH/AAEH) – Wheel, Front N20tedaa All Options
2020 CHIEF VINTAGE ALL OPTIONS (N20TVAAA) – Wheel, Front All Options
2020 CHIEFTAIN CLASSIC ALL OPTIONS (N20TFAAA) – Wheel, Front All Options
2020 CHIEFTAIN DARK HORSE (N20TCDBB) – Wheel, Front All Options
2020 CHIEFTAIN ELITE (N20TCEBB) – Wheel, Front All Options
2020 CHIEFTAIN PREMIUM (N20TCABB) – Wheel, Front All Options
2020 CHIEFTAIN STANDARD THUNDER BLACK (N20TCBAA) – Wheel, Front All Options
2020 CHIEFTAIN STANDARD TITANIUM SMOKE (N20TCBBB) – Wheel, Front All Options
2020 ROADMASTER DARK HORSE ALL OPTIONS (N20TKDBB) – Wheel, Front All Options
2020 ROADMASTER ELITE ALL OPTIONS (N20TREBB) – Wheel, Front All Options
2020 ROADMASTER PREMIUM ALL OPTIONS (N20TRABB) – Wheel, Front All Options
2020 SPRINGFIELD DARK HORSE ALL OPTIONS (N20TJDBB) – Wheel, Front All Options
2020 SPRINGFIELD LIMITED ALL OPTIONS (N20THAAA) – Wheel, Front All Options
2021 CHALLENGER DARK HORSE (N21LCDRR) – Wheel, Front All Options
2021 CHALLENGER LIMITED (N21LCARR) – Wheel, Front All Options
2021 CHALLENGER STANDARD (N21LCBRR) – Wheel, Front All Options
2021 CHIEF VINTAGE DARK HORSE 111 (N21TVDAA/TVDCA) – Wheel, Front N21tvdaa/N21tvdca All Options
2021 CHIEF VINTAGE DARK HORSE 116 (N21TVDBB) – Wheel, Front All Options
2021 CHIEF VINTAGE PREMIUM 111 (N21TVAAA/TVACA) – Wheel, Front N21tvaaa/N21tvaca All Options
2021 CHIEF VINTAGE PREMIUM 116 (N21TVABB) – Wheel, Front All Options
2021 CHIEFTAIN DARK HORSE (N21TCDBB) – Wheel, Front All Options
2021 CHIEFTAIN ELITE (N21TCEBB) – Wheel, Front All Options
2021 CHIEFTAIN PREMIUM (N21TCABB) – Wheel, Front All Options
2021 CHIEFTAIN STANDARD 111 (N21TCBAA) – Wheel, Front All Options
2021 CHIEFTAIN STANDARD 116 (N21TCBBB) – Wheel, Front All Options
2021 ROADMASTER (N21TRABB) – Wheel, Front All Options
2021 ROADMASTER DARK HORSE (N21TKDBB) – Wheel, Front All Options
2021 ROADMASTER LIMITED (N21TKABB) – Wheel, Front All Options
2021 SPRINGFIELD 111 (N21THAAA) – Wheel, Front All Options
2021 SPRINGFIELD 116 (N21THABB) – Wheel, Front All Options
2021 SPRINGFIELD DARK HORSE (N21TJDBB/TJDDB) – Wheel, Front N21tjdbb/N21tjddb
2021 SPRINGFIELD DARK HORSE INTL (N21TJDBBE) – Wheel, Front All Options
2022 CHALLENGER DARK HORSE (N22LCCRR) – Wheel, Front All Options
2022 CHALLENGER ELITE (N22LCERR) – Wheel, Front All Options
2022 CHALLENGER LIMITED (N22LCARR) – Wheel, Front All Options
2022 CHALLENGER STANDARD (N22LCBRR) – Wheel, Front All Options
2022 CHIEF 111 ALL OPTIONS (N22DMBAG/DMCAG) – Wheel, Front All Options
2022 CHIEF BOBBER 111 ALL OPTIONS (N22DLBAG/DLCAG) – Wheel, Front All Options
2022 CHIEF BOBBER DARK HORSE 116 ALL OPTIONS (N22DLABH/DLDBH) – Wheel, Front All Options
2022 CHIEF DARK HORSE 116 ALL OPTIONS (N22DMABH/DMDBH) – Wheel, Front All Options
2022 CHIEFTAIN DARK HORSE (N22TCDBB) – Wheel, Front All Options
2022 CHIEFTAIN ELITE (N22TCEBB) – Wheel, Front All Options
2022 CHIEFTAIN PREMIUM (N22TCABB) – Wheel, Front All Options
2022 CHIEFTAIN STANDARD 111 (N22TCBAA) – Wheel, Front All Options
2022 CHIEFTAIN STANDARD 116 (N22TCBBB) – Wheel, Front All Options
2022 PURSUIT DARK HORSE / DARK HORSE PREMIUM (N22LDDRR/LDFRR) – Wheel, Front All Options
2022 PURSUIT LIMITED / LIMITED PREMIUM (N22LDGRR/LDHRR) – Wheel, Front All Options
2022 ROADMASTER (N22TRABB) – Wheel, Front All Options
2022 ROADMASTER DARK HORSE (N22TDKBB) – Wheel, Front N22tkdbb All Options
2022 ROADMASTER PREMIUM (N22TKABB) – Wheel, Front All Options
2022 SPRINGFIELD 111 (N22THAAA) – Wheel, Front All Options
2022 SPRINGFIELD 116 (N22THABB) – Wheel, Front All Options
2022 SPRINGFIELD DARK HORSE (N22TJDBB) – Wheel, Front
2022 SUPER CHIEF 111 ALL OPTIONS (N22DBBAG/DBCAG) – Wheel, Front All Options
2022 SUPER CHIEF LIMITED 116 (N22DBABH/DBDBH) – Wheel, Front All Options
WHEEL BOLT CAP COVER CHROME DOME SPIKE CHROME / BLACK