Description
Indian Scout Old School Sissy Bar
Indian Scout Old School Sissy Bars come in multiple style uprights. They all use the same side plates that install in the factory bolt holes currently holding the side plates to the rear fender. Veery easy to install and only takes minutes. Choose chrome or black finish and backrest height for your Indian Motorcycle Scout.
Fits all Scout Models including the Sixty.
The hardware for mounting is stainless and the spacers are aluminum.
Bonus for custom builders or specialty bikes the side plates for mounting will accept a huge range of HD stock, aftermarket, and handmade sissy bars if you ever decide to change it up.
Choose which style of upright you would like on your Indian Scout Motorcycle from two styles the Old School Attitude Stick or the Multitude
Old School Attitude Sticks are made from 9/16 round steel bar. Available in two sizes—approximately 30" or 18"
MULTITUDE SISSY BAR STICKS
Machined from 9/16″ square steel bar stock
Available in two sizes: approximately 30″ or 18″
Available with chrome finish
Will accommodate Multitude Topper knobs with 3/8″-16 thread (available separately)
Optional Toppers include TOPPER MULTITUDE 8-BALL, TOPPER MULTITUDE SKULL, MULTITUDE DEVIL, MULTITUDE EYEBALL, MULTITUDE CYCLE VISIONS DEVIL
Made in the U.S.A.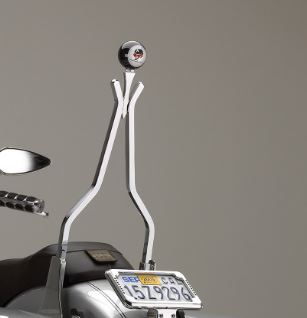 Old School Attitude Sticks (below) are made from 9/16 round steel bar.
Available in two sizes—approximately 30" or 18" (note the 18 inch Multitude will not be made any longer. We still have in black but not chrome. )
Indian Scout Old School Sissy Bar